Urbani Truffle Bar & Restaurant is a unique concept offering the delights of the prestigious Italian truffle combined with the simple excellence of Italian food cooked by our great Italian Chef.
Offering with a sit-down meal, looking for something exquisite, or with delicious cocktails with fresh truffle, served in an enveloping atmosphere at 140 meters tall rooftop of the building Sathorn square on the heart of Bangkok – Thailand.
Since 1852 Urbani has always been dedicated to the world of truffles, and thanks to the work of great men and women it has become a global point of reference and world leader in this sector.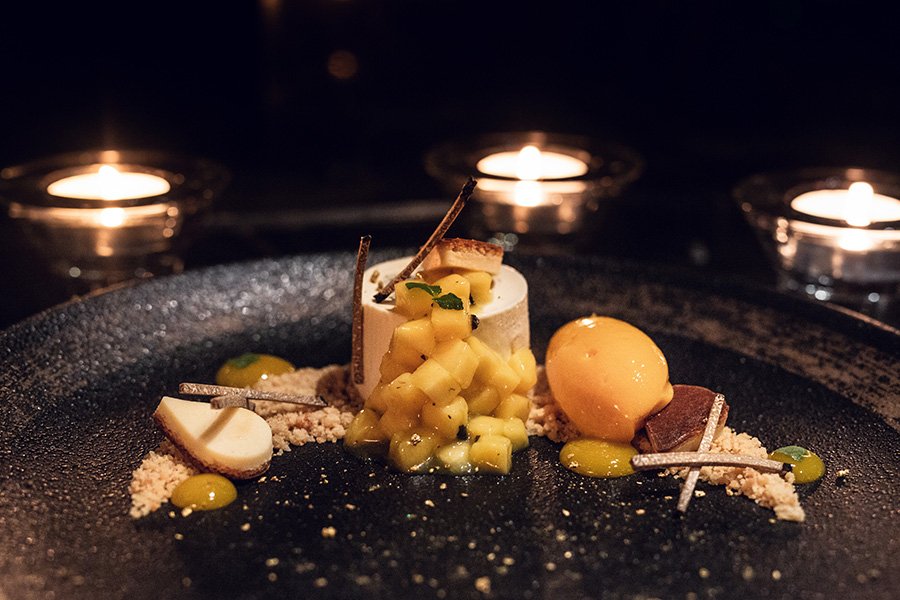 Scenic view italian dining
We provide a classic and cozy fine dining experience. Choose from a comfortable coach seat or a seat by the window enjoying a direct view of the bustling heart of Bangkok.
Crafting your culinary journey you can discover the dynamic Italian fine dining experience and other European specialties. We will assist you in making your special event memorable, with seasonal dishes tailored to the needs of your group.
Rooftop Sky Bar & Chef table
Our Truffle Bar has a warm ambiance and elegant design for 30 people. Enjoy the experience from the first drink to the last bite of the best truffle in the world. Accompanying your food is not an easy task, you can pick a bottle of your favorite wine from our 250 labels selection! The menus reflect the Truffle philosophy. The Truffle creation dishes change continuously according to the season and the fresh ingredients, it is constantly evolving from the Chefs. A selection of Oysters, caviar, and raw seafood is also available at our Bar and you can select.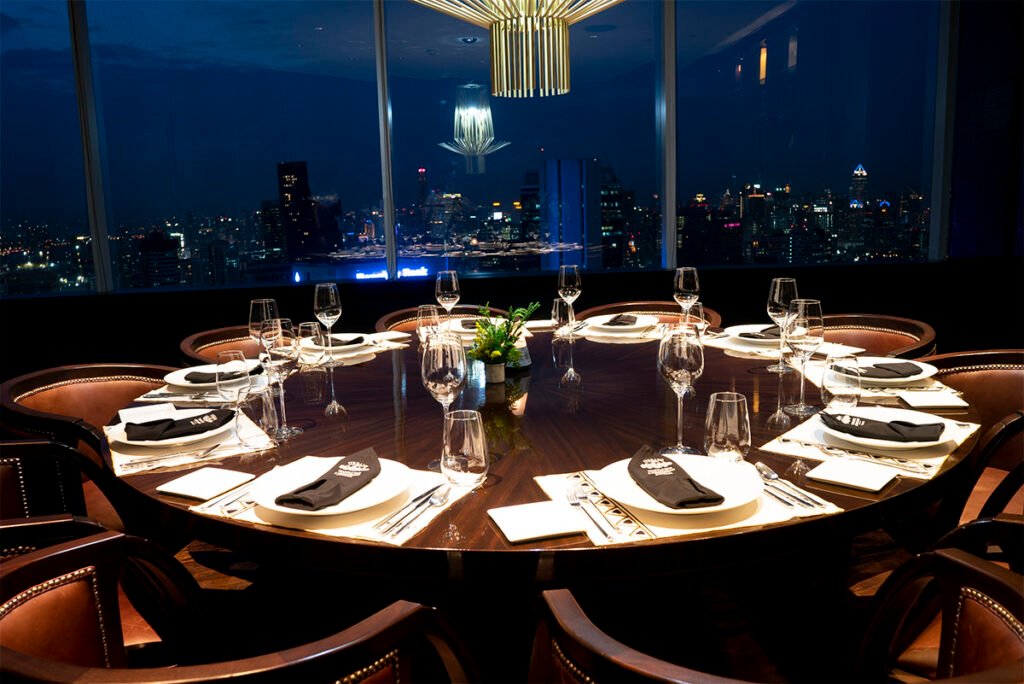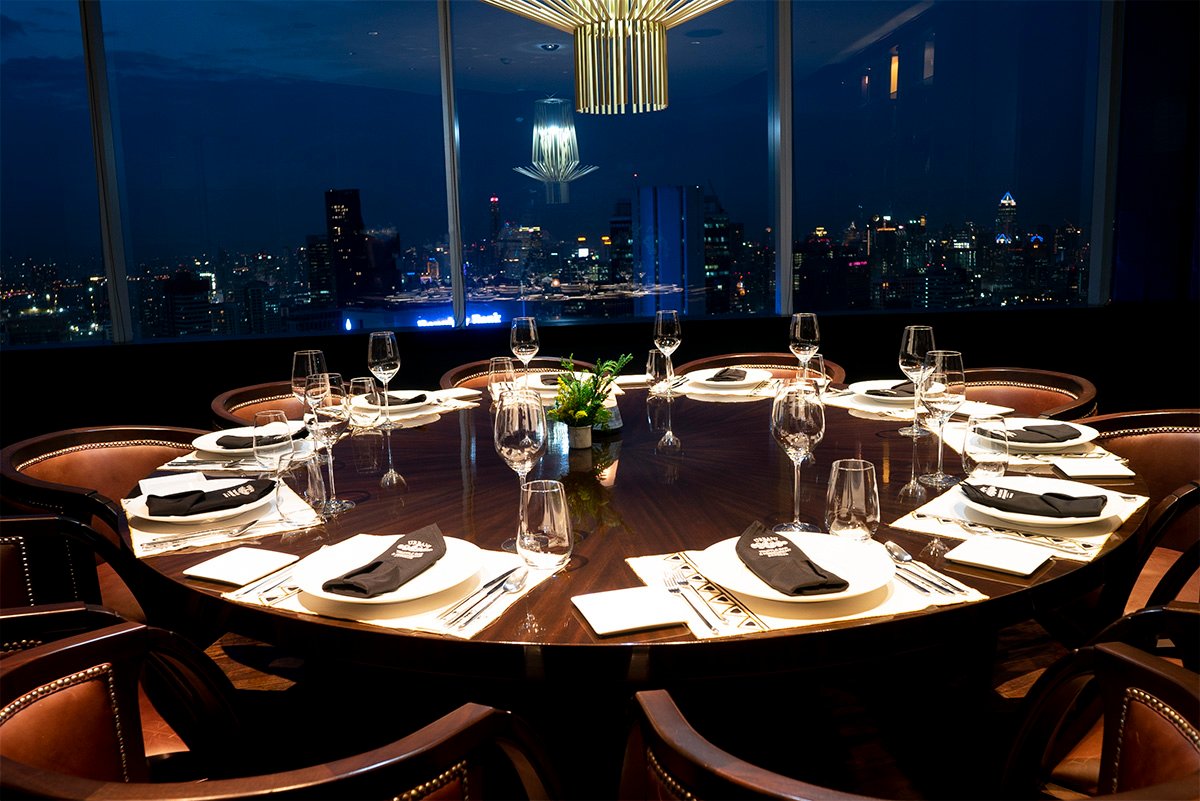 VIP's private room is always remarkable efficient and unique. Virtually every dish is made from our kitchen from the freshest ingredients. We can personalize your meal with a bit of time notice because the preparation for a special guest often starts well ahead of their arrival.
Larger groups (10/12 persons) upon prior request may be seated in VIP private room where they can enjoy intimacy while ordering off the menu or from a special menu. The VIP room aims to make your dining experience as enjoyable and memorable as possible.
NEXT OPENING
ROMA – MILANO
ถ้าจะถามหาวัตถุดิบชั้นเลิศระดับโลก แน่นอนว่าทรัฟเฟิลต้องติดอยู่ในอันดับต้นๆ ด้วยเสน่ห์ของกลิ่นทรัฟเฟิลอันเย้ายวนเป็นเอกลักษณ์ และความพิถีพิถันในการเสาะหา ไปจนถึงการรังสรรค์เป็นเมนูชั้นเลิศ จึงทำให้ทรัฟเฟิลจัดว่าเป็นวัตถุดิบชั้นดี หายาก และราคาแพงลิ่ว
Thailand Tatler gets into the festive spirit with the delicious fungal-inspired Italian delights served up in the elegant surrounds of
Urbani Truffle Bar & Restaurant
Truffle lovers rejoice! Thailand is officially on the world truffle map following the discovery of tuber magnatum, or white truffles, found growing in the forests of Chiang Mai Province
Il know how di Roberto Ugolini e la tradizione della famiglia Urbani: dal frutto della loro collaborazione è "spuntato", a 100 metri d'altezza in un grattacielo, non solo un locale, ma un concept per conquistare l'Est asiatico con l'oro nero italiano
The influence and the prestige of the Bangkok food scene has been on the rise over the past few years and the arrival of Urbani Truffle Bar & Restaurant is a prime example of this shift. While the name of this exciting new venture declares its showcasing of luxury gourmet ingredients , it also stakes it claim as the world's first full service restaurant venue featuring the famous Urbani truffles from Perugia, Italy. Italy. The Urbani family has cultivated this highly coveted fungus for six generations and today control 705 market share of all the truffles sold around the globe. "This restaurant is the first of its kind although the family has several intention shops where you can buy fresh truffles and prepackage items," shared Roberto Ugolini Director of Urbani, "The Urbani family could have opened a restaurant up anywhere in the world, and Bangkok is where they decided to do it. We only serve the best fresh truffles here and are launching the first of many restaunts to come".
Urbani Truffle Bar & Restaurant
The world's biggest truffle dealer has opened a Bangkok restaurant The buzz: The Umbria-headquartered Urbani Tartufi boasts of being the world's number-one truffle dealer. Now, the brand (which also runs stores and delicatessens from New York to the Netherlands) has opened this fine-dining restaurant atop Bangkok's Sathorn Square building.
Urbani Tartufi continua a sorprendere e ad essere un grande testimonial dell'Italia in uno scenario d'eccezione: al 39 piano di uno dei palazzi più belli di Bangkok, il Sathorn, l'Urbani Truffle Bar & Restaurant racconta tutta la storia della famiglia che ha fatto del tartufo la propria missione di vita. Il layout degli interni è stato interamente dettato dagli Urbani mentre è grazie a Roberto Ugolini se la realizzazione ha superato ogni aspettativa.
Described by 18th century French gourmand Jean-Anthelme Brillat-Savarin as "the diamond of the kitchen", the not-so-humble truffle takes the culinary spotlight at Urbani at Sathorn Square. The gemstone analogy is apposite. The restaurant opened in June 2018 as a venture between seasoned local restaurateur Roberto Ugolini and the Urbani family, which established its truffle empire in northern Italy in 1852 and today controls approximately 70 per cent of the global market in the coveted fungus, effectively becoming the truffle what De Beers is to diamonds.
Urbani Truffle non apre a Bangkok, bensì ci atterra con "un'astronave" da più di 100 posti a sedere al 39° piano della Sathorn Square Tower, una delle torri più iconiche della città. La casa madre è Urbani Tartufi, un'azienda secolare che dalla sua nascita, nel 1852, è arrivata alla sesta generazione toccando una quota di mercato del 70%, con 5 marchi di proprietà e più di 300 professionisti nella sua scuderia. Dal quartier generale di Sant'anatolia di Narco (Perugia), si gestisce anche la presenza estera attraverso il marchio Urbani Truffles con sedi in tutti i maggiori paesi del mondo.Alla guida Roberto Ugolini, volto noto della ristorazione Thailandese grazie ai successi ottenuti con diversi ristoranti, fra cui il noto White Box a Phuket. Lui è mente e cuore di questo ambizioso progetto che contiene nella sua formula elementi unici come: made in italy; un brand internazionale; una delle location più stupefacenti della città; tradizione e innovazione; e la cui alchimia può portare a qualcosa di unico e rivoluzionario su uno dei mercati più competitivi dell'intera Asia come quello della ristorazione a Bangkok.
The Urbani family's history is tied to truffle since 1852, when Constantino Urbani began to export fresh truffles to France. Roberto Ugolini, banker turned to food, is the guru of Italian catering in Thailand with restaurants, bars, bakeries, and caterings. Together they opened the Urbani Truffle Bar & Restaurant on the 39th floor of the Sathorn Square Building, one of the skyscrapers that stand out in the skyline of the Thai metropolis.

What makes Urbani Truffle Bar & Restaurant so unique and special? View and quality describe Urbani Truffle Bar & Restaurant.The elegant fine dining Italian style concept restaurant for a sophisticated clientele. Urbani Truffle Bar & Restaurant features outstanding Italian and European cuisine with a spectacular view over the heart of Bangkok.
È una sfida già vinta quella di Urbani Tartufi che ha inaugurato il suo nuovo ristorante in uno scenario d'eccezione: al 39mo piano di uno dei palazzi più belli di Bangkok, il Sathorn. L'Urbani Truffle Bar & Restaurant racconta tutta la storia della famiglia che ha fatto del tartufo la propria missione di vita.

Il lay-out degli interni è stato interamente dettato dagli Urbani mentre è grazie a Roberto Ugolini se la realizzazione ha superato ogni aspettativa. Un ruolo prestigioso come bancario per i più importanti istituti privati di Roma, il fiuto per gli affari e la sensazione che qualcosa, però, mancasse. È stata la passione per la buona cucina a creare la connessione, a guidarlo nella scelta di lasciare il freddo settore del credito e cedere al fascino della Thailandia che aveva conosciuto durante i suoi viaggi di lavoro. Vari ristoranti di successo fino ad arrivare a questa prestigiosa partnership con Urbani. "Portare nel mondo il brand Urbani è per me motivo di grande orgoglio" racconta Ugolini. "Volevo da tempo realizzare una ristorazione ad altissimo livello e quando Olga Urbani mi mostrò il progetto, sono stato folgorato e da quel giorno non ho smesso un attimo di realizzare questo sogno comune.